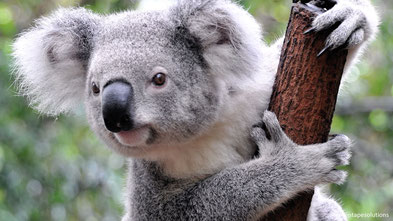 New figures show a catastrophic population crash in the past 20 years in south-east Queensland's Koala Coast and Pine Rivers regions. The announcement followed the release of a University of Queensland report that claimed koalas would likely be extinct in some areas "within a small number of generations".
Since 1996, more than 80 per cent of the koala population has disappeared on the Koala Coast, in and around Brisbane, the report found. The report also outlines that 54% had disappeared in the Pine Rivers region during the same period. 
Main Threats?
Koalas face many threats in an increasingly cleared, developed and fragmented landscape.
After habitat clearing, the most serious threat to koalas is death from car hits. In South East Queensland, an average of almost 300 koalas are killed each year by motor vehicles, based on wildlife hospital records in the period 1997 to early 2011.
Another major threat to koalas is dogs. More than 100 koalas are hospitalised each year in South East Queensland after being attacked by dogs. Around 75 per cent of these koalas will die from their injuries. On average that's 75 koalas killed each year from dog attacks. Many dog attacks go unreported so the number of dog attacks is likely to be even higher.




Legislation in SEQ
The South East Queensland Koala Conservation State Planning Regulatory Provisions (SPRP) is an overarching state planning instrument that regulates new development at the development assessment stage. The SPRP covers areas of the highest priority for koala conservation action. This incorporates priority koala assessable development areas, which are made up of the Koala Coast and Pine Rivers areas, and the koala assessable development areas which are made up of areas managed under previous state koala conservation initiatives.
The SPRP was amended in November 2015. The draft amendment maintains the koala offset provisions established by the Transitional Regulation by referencing the Queensland Environmental Offset Policy.
The Queensland Environmental Offset Policy is used to ensure that environmental offsets for unavoidable impacts on high quality koala habitat, regulated by the SPRP, contributes to the rehabilitation, establishment and protection of koala habitat. An environmental offset is an activity taken to compensate unavoidable negative environmental impacts. An offset differs from mitigation by addressing any remaining impact after all attempts to first avoid and then reduce the impact have been exhausted.
---
References
Department of Environment and Heritage Protection  - www.ehp.qld.gov.au/wildlife/koalas/koala-threats.html
Koalaland - www.koalaland.com.au
Koala Ecology Group (University of Queensland) - www.uq.edu.au