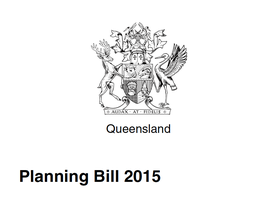 The current planning Act (the Sustainable Planning Act 2009) has been replaced with the new planning legislation, which was passed by the Queensland Parliament on 12 May 2016. 
The replacement legislation includes:
The Planning Act 2015
The Planning and Environment Court Act 2015
The Planning (Consequential) and Other Legislation Act 2015
The new legislation will commence in 2017 and will create a contemporary framework for delivering planning and development across Queensland.
In addition to the Bills, the State has also released a number of draft statutory instruments. The draft instruments that have been released are the:
draft Planning Regulation

draft Development Assessment Rules

draft Plan Making Rules

draft Infrastructure Designation Guidelines
The department is currently preparing some documents to help understand the new Act. This information will be available from July. Fact sheets and other supporting information are also available on the Department's website.